You have the ability to restore backups of your website files that we have through the "R1Soft Backup Restore" icon located in cPanel when you login to your hosting account. Here are the basic steps you need to take to restore files.
The first step is to login to cPanel, once logged in look for the "R1Soft Backup Restore" icon located in the "Files" Section.

When you click on this link you will be redirected to our storage server that contains all of the restore points we have available for your account. If you need an older back than what is listed we may have it available but a support ticket will be required for us to locate it.
Next click on the the little file icon for the date from which you want to restore files.

Click on the home icon to show the files available in your home folder.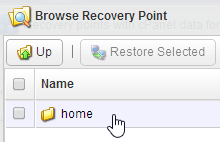 Then select the file or files you want to restore by checking the box next to them and click on the "Restore Selected" button. In the example below we are restoring the "Home_Page.php" file.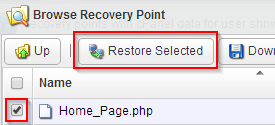 You will get a popup warning you that if the file already exists it will be overwritten. Click "Restore" to continue.

You will then get a status screen where you can monitor the progress of the restore.

Congradulations! You just restored your requested files from our backup server.